Crohn's Colitis…and Marijuana?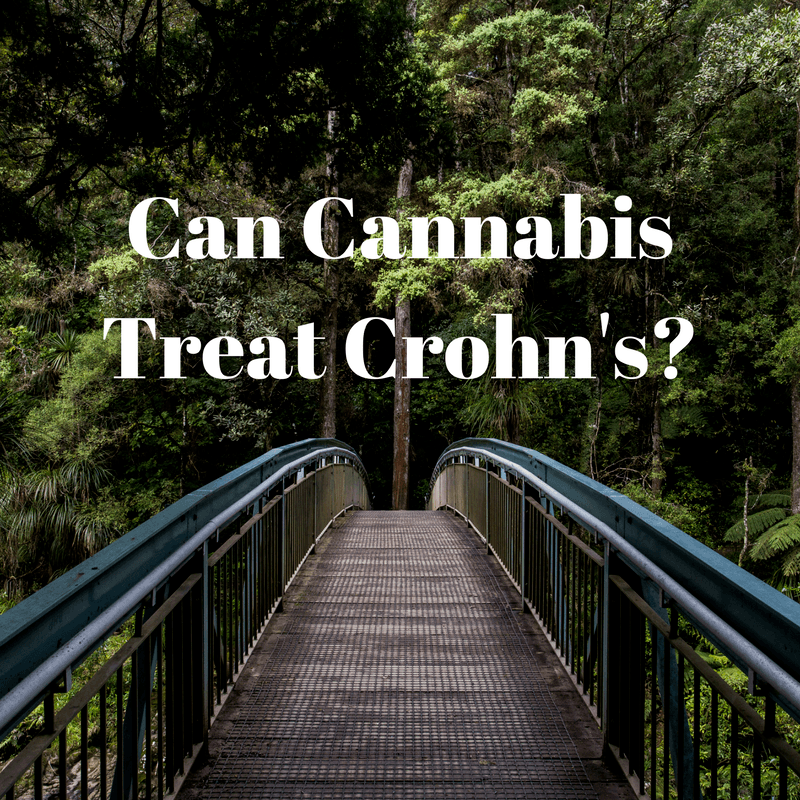 Let's be real, the only time you hear anyone talking about medical marijuana is when he/she are bragging to their friends about having "the card". Having a medical marijuana card that is…. Which means you're able to go to a local dispensary and purchase cannabis for medical uses or just because you have tuesday afternoon off and got the new Nintendo Switch!
In all seriousness, the list of conditions that can potentially be helped with the aid of cannabis is vastly growing by the year Seriously, even WebMD says it…
Marijuana has become a big part of society politically and recreationally, but it's been kept relatively quiet on the medical side.
Many patients with chronic conditions are finding relief from using cannabis and living a natural and healthy lifestyle. However, Cannabis is still not a well-known form of treatment for Crohn's/Colitis. Many individuals with Crohn's/Colitis are finding relief from their major symptoms such as stomach cramping and that impending sense of urgency.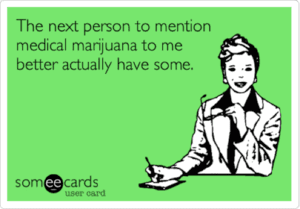 Patients have also reported that since begun using cannabis they've seen it reduce their nausea and help them to gain back their appetite – but I guess that quality could land on either side of the fence. Cannabis is a natural form of medicine that could serve as an alternative to the long list of drugs that a patient is currently being prescribed.
Dane, the founder of CClifestyle, said, "I don't think Marijuana was ever able to help my Crohns/Colitis directly – if anything I think I might of gained a sensitivity to it and seen an increase in symptoms…However, in my roughest moments, there was nothing better to help me relax, sleep and reduce pain. Indirectly, it was a lifesaver."
Dr. Timna Naftali based out of Meir Medical Center in Israel has been conducting this research for many years now. He focuses on IBD and how cannabis could help control symptoms.  He recently conducted a study where he used patients who had recently stopped responding to commonly used pharmaceuticals to treat Crohn's.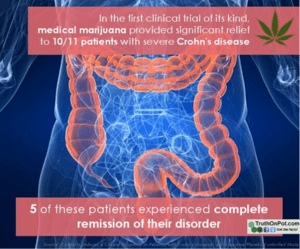 One group was given a placebo, which was marijuana with the THC removed.  The other group was given marijuana in the form of cigarettes with the THC. Ten of the eleven patients given the THC reported that they had improvement on their symptoms. They reported that they had less sleepless nights, a better appetite and more relaxation. Five of the eleven patients in the group given the marijuana cigarettes with THC reported they had complete remission from their symptoms. The results from this study are outstanding! These patients had completely stopped responding to their pharmaceuticals however found so much relief using cannabis.
So this all sounds pretty delightful, one treatment that's all natural, relief of symptoms, possible large reduction in symptoms and a bit fun? Figuring this possible treatment out might not be such a bad idea. These next steps will help guide you in your quest to know if Medical Marijuana is for you.
1. Connect with the right physician
Finding the right doctor can be difficult, worst comes to worst you can always hit up Snoop for some advice via twitter but first lets see what other feasible options we have.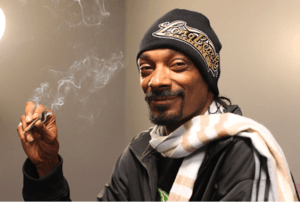 Health care is expensive so finding a doctor you connect with is important. The key to finding the right caregiver for this situation is research. Finding a specialist who focuses on Crohn's/Colitis yet open minded to alternative solutions could be the most important step. Look for someone in your area who has conducted research on medical marijuana as it relates.
A great example of one of these alternative practitioners would be MMJ Doctor – http://mmjdoctor.com, they have an office based out of San Francisco & San Jose, California. MMJ Doctor's website separates many conditions by category and also gives an explanation on how cannabis could help treatment. Another helpful resource is Dr. Rachana Patel's website http://www.drrachnapatel.com Dr. Patel is based out Walnut Creek, California and her website goes into great detail about her background and why she believes so strongly in the benefits of using cannabis. Her page also has a very useful FAQ section where she goes over common misconceptions about medical marijuana.
Many physicians outside of the United States have been conducting research with THC for years now.
This could be tricky in the U.S. as many states have not legalized medical marijuana. Luckily there is a lot of information online and the possibility of having an appointment over the phone with a physician who may be a little too far away. This task may be a little daunting because no one wants to be labeled as a "Pot Head" or an abuser of the law, but we do want to be educated on the facts. In that sense this doesn't have to be more than an informative conversation.  
2. Using Cannabis as Treatment
 There are many different ways you can use cannabis as treatment for Crohn's and Colitis. It's never really recommended that you smoke marijuana because inhaling any type of substance is not recommended for keeping your lungs healthy while also potentially inhibiting a healing response in the body. Remember, Marijuana is a depressant – it should be used lightly. Depending on your preferences many people use oils or vape pens or maybe a "bubbler" if needed to smoke. Be careful of edibles due to the fact we're dealing with serious gut health issues. Edibles are usually not sugar free/gluten free/Dairy free and put a very strong inflammatory substance directly into the "war zone" of our gut.
Some dispensaries make edibles with healthy alternatives such as coconut flour, and almond milk. Some also tend to different dietary needs such as gluten free, dairy free, or vegan. If the dispensary does not offer these options or you just prefer to prepare your own food there are many different recipes online that incorporate medical marijuana into them. We've even found recipes for strawberry fruit strips!
The oil can be taken orally or applied topically for other conditions. There are many different ways to make your oil. Be aware of the absorption levels of the type of method you use. Sometimes the THC is absorbed into the body faster using different methods and varies from person to person. Expect to try a few different ways of consuming THC before you find what works best for you. Remember the first time you tried Alcohol? Yea it's kinda like that – it's not unusually for it to blow you off your socks and be in need of a close friend.

Point here is start small, use in a controlled and safe environment with people you trust. More is not always better!
3. Incorporating a Healthy Lifestyle
Eating clean, exercising regularly, and taking care of your body first and foremost will aid in the healing process more than cannabis – do not use this as a crutch but a value to a structured protocol. We recommend predominately using at night or when you have no more responsibilities. This way you can relax and let go of any obligations, you had a productive day, you follow your daily regimen, you fill out Dane's Daily Healing Journal and built upon your personalized S.H.I.E.L.D. program… Now, treat yourself to a relaxing night! 🙂
We find that those who's are exercise everyday, creating structure to their daily program and utilizing probiotics have much more success using Cannabis as medicine. If you're not careful this could put you in a more depressed state, especially when used alone.
Key take-aways here is don't rely on it, use it as part of a strong program. Focus on using after your day is done and with friends/family you enjoy. Let it be a gift to yourself for your hard work while giving you the environment to sleep better, laugh more, and enjoy life!
4. Seeing Results  
 Here comes the fun part! Your weeks, or even months of research and commitment are about to start paying off. You've been keeping up with your personalized S.H.I.E.L.D. program and you've even found the perfect way to use cannabis as a treatment option. With more of an appetite and less nausea, it's time to get creative with your meals and have some fun with it
Pinterest has tons of different recipes for meal prepping that are tasty and have lots of nutrition as well. They have plenty of recipes on how to change up some bland meals and plenty of vegetarian and vegan options as well.
Keep track of how your nights and days go when you smoke and when you didn't smoke. We've had plenty of fellow Crohnie's who say it's the only way they can sleep through the night or reduce pain. On the other hand we've had people who see it makes it much worse! We've even had people like our founder Dane who said he has some benefits but none having a direct healing effect on his symptoms.
What can we take away? Personalize it, keep an open mind…and make sure you have all three Lord of the Rings movies on standby if Medical Marijuana is for you!
Happy Healing!
Source for clinical study by Doctor Naftali: https://www.ncbi.nlm.nih.gov/pubmed/23648372
Other Sources:
http://www.webmd.com/pain-management/features/medical-marijuana-uses
6 Tips to Healing Crohn's & Colitis
DOWNLOAD DANE'S GUIDE TO LIVING A SYMPTOM-FREE LIFESTYLE
I'm Dane Johnson, a Holistic Nutritionist and Health Coach. I specialize in helping people reverse their Crohn's Disease and Ulcerative Colitis symptoms without using drugs or surgery. Learn more.